Samoa (or Western Samoa) is a group of islands in the Pacific Ocean (mainly Savaü, Upolu, Manono and Apolina) located east of Wallis and Futuna and south of Tokelau.
It should be noted that Eastern Samoa, made up of a few islands, is American and it is therefore the stamps of the United States that are used there.
Samoa was a German colony from 1900 to 1916 and German "Samoa" stamps and special stamps (imperial yacht series) were issued.

In 1914, the British occupied the part colonized by the Germans and British occupation stamps were used (stamps "G.R.I." which were the initials of the King of England.
In the same year, New Zealand obtained a League of Nations mandate and New Zealand administration stamps were used (stamps of New Zealand overloaded "Samoa").
As of 1922, Samoa is still under New Zealand warrant and specific stamps appear (entitled "Western Samoa").

In 1962, Samoa became an independent Commonwealth kingdom.
Samoa then issued their own stamps entitled "Samoa i Sisifo" (Western Samoa).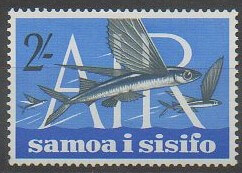 From 1982, the stamps are simply entitled "Samoa".