Togo stamps
Togo is a territory of West Africa surrounded to the south by the Atlantic Ocean, to the west by Ghana, to the east by Benin and to the north by Burkina Faso.
Togo is a former French colony (see stamps in the corresponding section). In 1956, French Togo became an autonomous republic and in 1960 an independent republic.
From that date, Togo issued its own stamps entitled "Republic of Togo" and then "Republic of Togo".
The first stamps of 1960 are series for the Olympic Winter Games in Squaw Valley and summer in Rome.

The first airmail stamp of the Autonomous Republic was issued in 1957 to celebrate the anniversary of this event.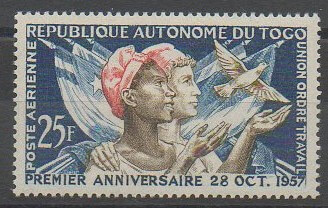 Togo then issued airmail stamps until 1990.
The first blocks and leaflets of Togo were created in 1959 on the occasion of the founding of the Togolese Red Cross (a series of 3 sheet blocks which were issued serrated and not serrated).