Euro banknote memory Le vieux Nice
The first euro banknote memory on Nice will be available very soon.
At the beginning of May, we will put on sale this 0 euro souvenir banknote with the theme of old Nice.

Price: 2 €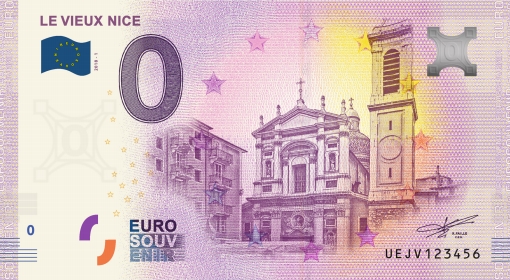 Nice, a very touristic city on the French Riviera, is known throughout the world for its famous promenade of English where Nice and tourists like to walk and for its carnival.

After a visit to the hill of the old castle and Place Masséna, visitors also like to stroll through the narrow streets of old Nice where stalls and restaurants create a festive atmosphere. At the turn of an alley, we find ourselves on Rossetti square where we can do a little pose enjoying a good ice cream with exotic scent and visit the Cathedral Sainte-Réparate (patron saint of the city of Nice).

This euro banknote memory, the first one on Nice, presents Place Rossetti and Sainte-Réparate Cathedral. It is issued in 5000 copies. We hope it will complement your souvenir collection.

You will find on our site this euro banknote memory at the price of 2 € (random number). Special issues (small numbers, years of birth, suites and palindromes) will also be available online on this site.

The other French and foreign euro banknote memory of 2018 are in the category euro banknote memory 2018.