Greenland is an immense island in northeastern Canada and northwestern Iceland.
This territory became a Danish colony in the 18th century and in 1953 became an integral part of Denmark. Since 1979, it is an autonomous territory of Denmark.
Before 1938, Danish stamps were used. From 1938, specific stamps were issued as a Danish colony until 1979.
The first set of 1938 stamps is about King Christian X of Denmark and the Polar Bear.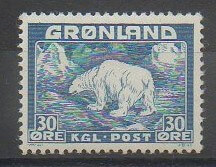 Since then, Greenland has issued numerous thematic series on the polar world (birds, marine mammals ...).
as, for example, this series on birds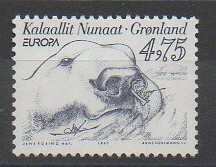 The first bloc-sheet was issued in 1987 at the World Philatelic Exhibition in Copenhagen ("Hafnia 87").